Welcome to TradeGuns.org: A place for gun owners to buy, sell, and trade guns online.
Click your state below to get started.
Looking for a good Christmas for the gun lover in your family?
Hidden Gun Cabinet
These hidden gun cabinets are made in America. They come in a variety of finishes and sizes including a 21-inch for handguns, a 46-inch for shotguns, and a 58-inch for rifles. When shut, there is no indication that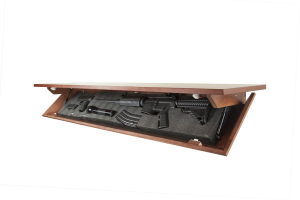 anything is concealed inside. It appears to be just a nice hand-crafted shelf. But when you use the secret magnetic key, the latch opens revealing your firearms, defense items, or other valuable items. These types of hidden gun safes are unobtrusive, look great, and most of all, keep your firearms stored safely and discreetly.
Every Day in December we'll be giving away a box of Zombie Maxx ammo to 1 of our visitors. On the last day of the month, we'll also be giving away a Glock 19 package with 250 rounds of 9mm Zombie Maxx ammo. All you have to do is enter your email address (One time is fine) anytime before or during the event for your shot at a free box of ammo shipped straight to you. Just enter your email in the box below and if you win, we'll contact you with the details!